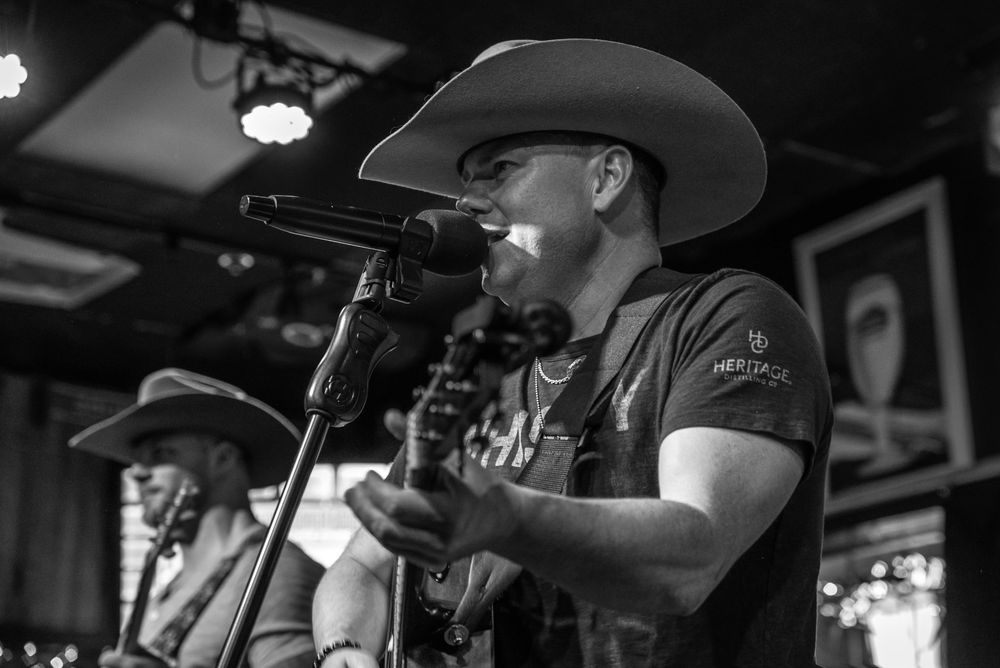 BIO
Saltwater Sky is a rising 5 piece country band from the Northwest. Formed in 2019, they've been making waves on the music scene with their small town story telling, and lively atmosphere. "We hope everyone feels connected at our shows...that's why I walk the floor every night and say hello. We want folks to understand how much they matter. They take time out of their lives to come see us play or add us to their playlists... I want to know all of them as friends... and see the colors that make them who they are..." lead singer Scott Heuston says.
Regional tours in Washington, Oregon, Idaho, and Montana have included fairs, festivals, and large venues like the Washington State Fair, King County Fair, Kuna Rodeo Pre Party, Sunbanks Country Music Festival, The Gorge Amphitheater, The Little Red Hen, Steel Creek, Browne Family Vineyards, Alexandria Nicole, and many others. 
With their soulful, unapologetic, and charismatic sound, they lean on the bluesy rock influences of their musical upbringings. Favorite bands include: Creedence Clearwater Revival, AC/DC, Clapton, The Brothers Osborne, LYNRD SYNRD, Tyler Childers, Blackberry Smoke, Johnny Cash, and Eric Church to name a few. Painting colors with their melody driven vocals, along with a lead guitar that battles equally for the front, Saltwater Sky brings a unique country sound with honesty and enthusiasm. 
Scott Heuston, the band's lead singer, fell in love with songwriting in college. To date, he has written over 400 songs and is a published poet. Believing that lyrics and a strong message are essential to their sound, country music is a proven runway for the opportunity to tell a story "our way."
The band's lineup includes Braedan on lead guitar, Eric on bass, Chris on drums, and Mark on fiddle and keys. 
Notable performances have included: a 2021 pre-funk party for Chris Stapleton at the Gorge; Sharing the stage at the 2021 WaterShed Festival kickoff event; headlining the New Years Bash at Purdy's Public House; opening for Connor Smith at Steel Creek, Singing the National anthem at the Washington state fair PRCA rodeo, St. Patrick's Day celebration at the Little Red Hen; and a pre-party for The Chicks at The Gorge birthday event. 
Saltwater Sky's current single, "Chasing My Yesterdays," is a powerful and emotional song that centers around the theme of self-reconciliation. The lyrics dive deep into the complexities of love... and the risks that come with opening oneself up to the possibility of heartbreak. "Despite the potential for pain," Heuston says, "the song encourages honesty and the willingness to love hard… even if it means accepting the inevitability of being left and experiencing heartbreak." 
In 2022, Saltwater Sky dropped their debut country album that's been turning heads. You by My Side is a nine-track album, featuring songs like "Crazy Woman," and  "The Other Side of Nowhere," which was also released as a single. 
In an effort to stay engaged with their fan base, Saltwater Sky has announced plans to release 12 singles throughout the year. This is an exciting development for fans of the band, as it means there will be plenty of new material to look forward to in the coming months. With their signature blend of heartfelt lyrics and powerful melodies, it's clear that Saltwater Sky is poised to make a major impact on the music scene in the near future. 
Thankful for a growing fanbase, Saltwater Sky remains focused on connecting with their audience. "We want our music to represent the stories of our fans," Scott emphasized. "Everyone has a song inside waiting to be told. I want to hear them all... meet them all.. and write about them all."
"This band believes in the power of spreading light... If you listen close enough, you can find song in every person you meet. Taking that risk to create a relationship is hard... but being bold enough to connect through music... That's why we exist."
Be ready to laugh, dance, sing along, and feel connected with this band in a night filled with colors and sound.